Estimated Time to Read: 3 minutes
Are you a new dog owner? Then this is just the right place for you to know how can you save money on your online puppy training course. And at the same time train your pet to behave the best.
Not all of us have the money to shell out on expensive training programs for our dog's training but that should not be the reason for your dog to not be trained to live like a civilized family member. With the prices touching the sky it has become difficult for people to afford a good puppy training course and they have started to avoid the same. But what if you come to know that you can train your pup without having to burn a hole in your pocket, yes there is one way.
No matter how rowdy or silent your puppy is, a good trainer can easily teach them to control their aggression or break their silence. If you have a good trainer available online, you will not have to compromise on quality and they will be at a convenient reach for you all the time. Having said that, this will take a little research at your end, not all online trainers are expensive.
Several trainers are ready to train your pup at a nominal cost as well as extending their professional help and years of expertise. Apart from this, here are a few things to keep in mind to save on an online puppy training course;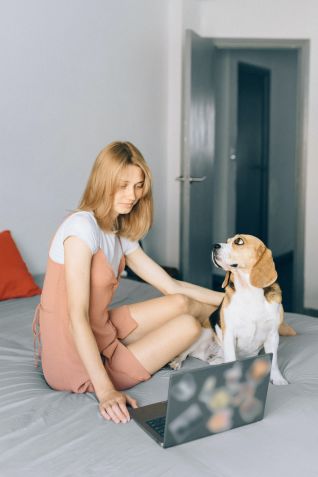 Semi-private session: If you know your budget exactly you can try to look for online puppy training courses that fit the bubble, but if not, there are other ways to handle the situation as well. You can talk to the trainer and ask for a partially private session. You can share the training session with a friend or a family member for the same price. This will easily cut off on a major chunk of your expenses. This will not just help you save some buck but will add to the competitive and companionship part of the drill among the dogs, and it'll be easy to train them. The attention is more focused on the dogs in these sessions by the trainers. It is better than being in a session with multiple dogs in real while dealing with too many people at the same time.
Time to enroll: Are you and your pup the showstopper kind? Then you can always opt for learning in the company. You can enroll yourself into an online puppy training course where there will be several other dogs sharing the screen space with you and you can split your money with all the others automatically cutting down on the financial burden on you. Your puppy can socialize with other pups and learn to behave with other humans as well. Find your pup a trainer who knows how to split time equally among all the pups, and one after another trains them towards a warmer behavior.
Discounts: If you have enrolled in a good online puppy training course, there is a good chance of you grabbing onto some good discounts and avail bargain options as well. If you have friends or family who has been in touch with a trainer prior or someone as a friend, use their assistance to get some bargains if possible. This will save you money while holding onto your trust in the trainer because they have come through a known person.
Several pup owners do the common mistake of letting go of a good online puppy training course because of the money that would cost them. If you just apply one of the above-mentioned tips you will be successfully able to eliminate a good chunk of your expense while teaching your dog to behave properly. So ahead and find your pup a suitable trainer that would suit your pup's need and your wallet.