Estimated Time to Read: 3 minutes
But your lil' one need something to eat after every 2 to 4 hours. And it is not about one or two days, you have to bottle feed your baby for the first 12 months. Anything that makes it easy for you to prepare feed for baby is worth buying. This is what baby bottle maker is all about.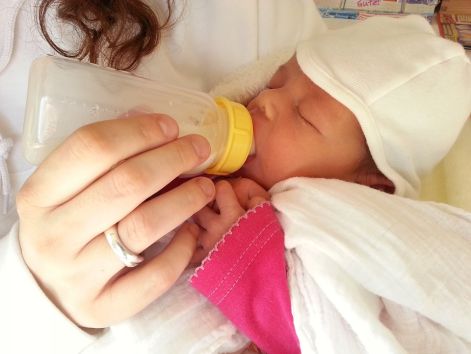 What is a baby bottle maker?
A baby bottle maker is an automatic formula preparation machine that prepares bottle feed for a baby just with the push of a button. It allows parents to prepare formula for baby easily without going through the discomfort of shaking the bottle really hard to properly mix the formula.
All you need to do is add water in the water tank on the side of the machine and formula in the airtight container and press the start button. Your baby bottle maker automatically heats the water and mixes formula in the right amount to prepare feed for the baby.
What are the different types of baby bottles?
Most parents in the United States buy baby bottle makers to prepare formula for their baby. There are many different types of baby bottle makers available in the market, and each has its own pros and cons.
Some bottle makers heat the water automatically to the right temperature while some don't have this feature. Some bottle makers are compatible only with certain formula brands and bottles brands and sizes while there are many compatible with all formula brands and bottle sizes.
Some modern baby bottle makers are entirely different for traditional baby bottle makers. They are small in size and easy to transport. They are not like old large baby bottle makers that you cannot carry along with you. A latest baby bottle mixer consists of blender inside the bottle and powered by a battery. It combines meal preparation and delivery into one compact and efficient unit. It clicks together to create a rechargeable, battery-operated, portable, hands-free blender and baby bottle in one unit. There are endless options in the market. You can choose a baby bottle maker as per your personal needs.
Benefits of baby bottle makers
Mix formula properly
Baby bottle makers mix any formula milk and rice cereal and oatmeal Cereal which are thicker formula additive properly effortlessly. You don't have to spend your energy on shaking the bottle. Your formula will be ready just with the push of a button. Baby bottle makers dissolve all chunks of formula to prepare a uniform formula which doesn't clog baby bottle's nipple.
Reduce air bubbles
One of the major perks of using a baby bottle maker is it reduces the mixing of air bubbles by a great extent. When you manually prepare formula, no matter how hard you try, air bubbles will get mixed into a formula. And when your baby consumes this formula mixed with air bubbles, it leads to colic, burping, and other post-feeding symptoms. Baby bottle makers are designed keeping colic in mind.
Save time and energy
No doubt it doesn't take a lot to prepare a bottle feed. But when you have to do it many times in a day and sometimes right in the middle of the night when you are in deep sleep, suddenly it feels like a task by itself. Baby bottle makers make life easy for parents and save their time and energy. Preparing bottle feed with baby bottle maker is super easy. It automatically mixes water and formula in right proportion within seconds to prepare a bottle feed that can give some relief to your baby's appetite.
So these are the key benefits of baby bottle makers. Rest different baby bottle makers have their own added advantages and disadvantages. So this was all you need to know about baby bottle maker. Hope this post has clear your some basics about baby bottle makers.