Estimated Time to Read: 3 minutes
A baby bottle mixer is a device to prepare foods for infants in the most optimal manner. It is a system to blend foods for babies for the purpose of reducing instances of colic in them.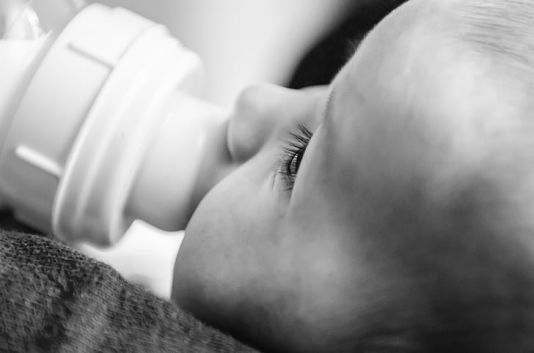 Baby Bottle Mixer – The Ideal Way to Prepare Baby Food
Infants are prone to colic as a result of gases and intestinal discomfort. Colic refers to incessant crying of babies for several hours or days at a time. Air bubbles present in food is the leading cause of abdominal discomfort in babies. You can use a baby bottle mixer, which is an excellent way to reduce instances of colic in babies.
A baby bottle mixer is a bottle, which comes with a blender. You can put the food inside it, blend it, and feed your baby right from the bottle.
Blended food is free of air bubbles for the most part. The bottles come with an air vent as well. So, whatever little air remains inside the food after blending is also pushed out of the bottle.
You can even blend stored breast milk in the baby bottle mixer. It will help you to dissolve separated layers, which can form in stored breast milk. Blending the stored breast milk will make it more palatable for your baby. As your baby grows, you can also use it to blend cereals.
Features
A baby bottle mixer is easy to operate with just a switch. It comes equipped with USB-rechargeable batteries. You can even keep an eye on the battery's charge levels with the help of the battery-level indicator.
The nipple shape of the bottle closely resembles that of a woman's natural breast shape. So, babies are easily able to latch onto the silicone nipples of the baby bottle mixer. You can choose the nipple flow as per the age of your baby. For infants, slow flow is ideal. As your baby grows, you can switch to medium and fast flow nipples. Some baby bottle mixers also offer the option to convert them into sippy cups. You can buy the nipples separately.
The air vents help to remove the air from the food. The vents also assist in the easier flow of the food to the nipples.
These bottles are made from non-toxic and safe materials. You can buy a baby bottle mixer, which is free from harmful chemicals such as BPA, phthalates, and PVC.
Babies can grip baby bottle mixers really well once their motor skills develop. You can also buy handles separately and use them on the bottles. Handles that can slide up and down are ideal. You can adjust them as per the comfort level of your baby.
You can buy baby bottle mixers in different sizes.
Benefits
The biggest benefit of using a baby bottle mixer as opposed to normal feeding bottles is the reduced instances of colic. The blended food without air bubbles will be easier to digest for your baby. Shaking the formula creates air bubbles, which are likely to cause gases in infants.
Even mixing food with a spatula or your usual kitchen blender doesn't offer the same benefits. The blender inside the baby bottle mixer is especially formulated for blending infant formulas and milk. It can create swirls, which blends the food but without creating air bubbles in it.
Your baby is less likely to spit blended food, which is easy to digest. Often, babies spit out half their foods soon after eating. It interferes with their meals plans and adversely impacts their growth.
Using a baby bottle mixer is also convenient and easy. You can operate it easily without any problems. It doesn't require any special preparation. You also don't need to spend any time on manually mixing the food, which doesn't work anyway.
It is also easy to clean. So, using a baby bottle mixer can also help parents save time. You won't need to use separate blender, spoons, mixing bowls, and bottles to feed your baby. So, you can save time on not only preparing the food but also on the kitchen cleaning chores. By using a baby bottle mixer, you can protect your baby from a great deal of post-meal discomfort.