Estimated Time to Read: 3 minutes
You always provide the best conditions and create the best circumstances for your dog for him to feel at ease and be happy. Now that you are looking for a dog trainer, you wonder who is the right fit for the task.
As a local, when you look up "Newport Beach Dog Trainer," your search engine would give you a good few choices to pick from. You may begin by shortlisting a few with an impressive profile. However, just who might be the right person to entrust your dog with is the biggest question. Before you make any hasty decisions, it is of pressing need to ascertain whether the Newport Beach Dog Trainer's training philosophy is in accordance with your values.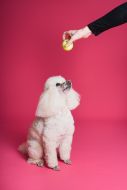 The following are a few questions that would help you determine if the prospective dog trainer is the right choice for you or not.
1) "Have you partaken in any formal dog training programs?"
A qualified dog trainer brings many advantages, particularly in the aspect of modern positive reinforcement training. When you interview the candidate from the "Newport beach dog trainer" list, it is important to understand the trainer's educational foundation. Do not hesitate to ask them in detail about the dog training program they partook in, if they have a valid certification from any recognized bodies like the CCPDT, whether they have membership in any related associations like the Association of Professional Dog Trainers, etc.
Although the state policies do not mandate that a dog trainer needs to be certified, as a pet owner, you can more or less assess their commitment to the profession and anticipate a certain level of quality in their training approach and techniques. Don't be so quick to strike them off your list if they aren't certified in dog training, though.
2) "How long have you been working as a dog trainer?"
The most important area that you need to ensure in your dog's new trainer is the wealth of their experience. While certifications promise quality, real-world experience in training dogs would make them nimble in both activities and reasoning. Experience broadens a trainer's ability to gauge a dog's behavior, make reliable predictions, and devise a plan that befits the particular requirements of your dog. Many veteran dog trainers in the country have cultivated their skills through self-teaching and apprenticeship methods.
3) "What kind of training methodologies and tools do you employ to train dogs?"
Coaxing the dog to behave a certain way without employing forceful coercion tactics like punishment, but positive reinforcement training like rewarding the dog for positive behavior should be the dog trainer's fundamental methodology. The profile of an ideal Newport Beach Dog Trainer should place natural emphasis on scientific reinforcement strategies. When you interview the prospective dog trainer, ask precise questions to grasp their outlook towards animal misbehavior and how they plan to correct or reshape an undesirable behavior. The prominence should always be placed on positive communication between the canine and the human and creating an enjoyable and fun experience.
If you suspect that they'd mete out physical punishments through mentions of notions such as subjugating the dog or intensive stress-training, consider it as the red light and cross them out of your candidate list.
4) "Have you referred out any cases to other trainers?"
You may call this a trick question, but the answer will give a profound insight into the dog trainer's work ethic. If the trainer says that he has a perfect track record and can handle any kind of cases from aggression to public behavior, while it may not necessarily be entirely false, but would definitely carry a sense of overselling themselves. On the other hand, if they say that certain behavioral traits, although they have the skill to handle it, they would rather refer it out to someone who specializes in it to see the best outcome, that would be a reflection of not only their honesty and professionalism but also their commitment to the ethics of their profession.