Estimated Time to Read: 3 minutes
For most dog lovers spending time with their dogs is a relaxing and enriching experience. Now, imagine getting paid for doing the same. Sounds amazing, right?
Dog training is a dream job for many dog lovers. However, to translate this dream into reality, you need to acquire the requisite skills and qualifications.
As exciting as it may seem, dog training is not an easy job. You need to spend hours learning and practicing the training methods and animal behavior. However, the profession has a booming demand and can turn into a lucrative career.
How can you turn your love for dogs into a passionate job?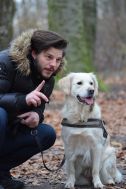 In recent years, we have seen an increase in the number of dog owners. New pet owners may lack the necessary skills to take adequate care of their dogs and fail to form a connection with them.
Also, lack of discipline and communication can cause behavioral issues. Unfortunately, this results in several dogs being sent to animal shelters. This is where dog trainers can help by providing adequate training.
However, for other people to trust you with their dogs, you need to have adequate knowledge, practice, and a certificate to vouch for your skillset.
How can you become a certified dog trainer?
Assess yourself
Having a love for dogs is a prerequisite, but a dog trainer needs other qualities as well. For example, a trainer needs to be patient during the training process and adapt to different methods while training different breeds.
As a trainer, you will also need to communicate with dog parents regularly. Hence, you need to have the required social and communication skills.
Before you proceed, you need to assess yourself and decide whether you have these personality traits? If not, are you willing to make these changes?
Gather the required knowledge
The second and the most important step of becoming a dog trainer is gathering the required knowledge about dog training and animal behavior. You can get this knowledge from formal sources, or you can also choose to be self-taught.
There are numerous dog training schools and programs that can help you gather dog training skills. You can also hire a personal mentor. A mentor will not only help you develop your knowledge and abilities, but also reshape your personality.
If you need a little flexibility, you can join an online training program that suits your routine. There are multiple online resources like books and videos that you can use to educate yourself.
Get experience with dogs.
All the information that you have gathered is irrelevant until it's put to use. Hence, the sooner you start practicing your skills, the better it is.
To begin, you can start training pets of your friends and family. You can also volunteer at a dog training organization or a local shelter. This will help you get acquainted with the process and gather some experience.
As a trainer, you will need to train different dog breeds with a different temperament. Sometimes, real-world situations are quite different from those taught in the classroom. Hence, a trainer needs to have a flexible approach at all times.
Training people is also an integral element of dog training. Hence, you should start training other people as well. This will help you develop and test your social skills in the real world.
Certification
Although it is not mandatory to get a certificate to become a dog trainer, it adds to your credibility. A certificate proves that you have undertaken the training and possess the required skill set. Hence, it is advisable to seek certification from a recognized institution.
These are the four crucial steps that you need to follow to become a certified dog trainer and turn your love for dogs into a passionate career.