Estimated Time to Read: 3 minutes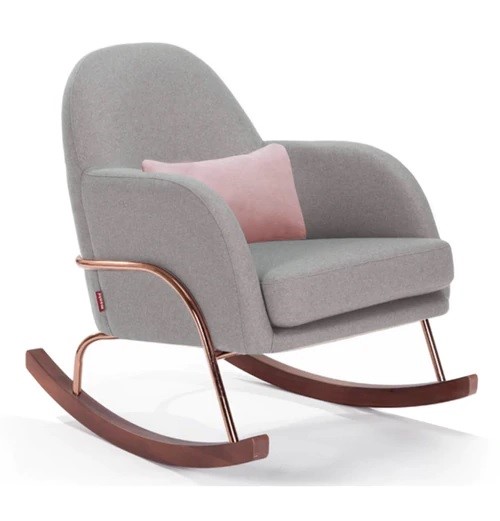 Nursing baby and breastfeeding at odd hours is not a simple task. Before moms could even realize, they start developing arm and back pains, thanks to wrongly chosen nursing chairs. Setting up a nursery chair and a comfortable nursing station takes time and effort but it helps in the comfort of both mom and baby at the end.
The nursing chair is a mom's best friend. After all, it is the one place where a new mom is going to spend her nights breastfeeding the baby, putting them to sleep, and comforting them beyond her energy levels at the odd hours when the whole world is sleeping. After all, a comfortable mom can take care of her baby with more patience and energy levels.
If you have been searching for the best nursing chair for your breastfeeding your baby and need some help on choosing the best breastfeeding chair, here is the guide for you.
Features to look in for a nursing chair
Check the following features before you finally settle on one for your nursing station:
Longevity
That nursing chair you are choosing now might match the nursery room décor and look trendy for now. But would that chair be usable after 5 years? After 10 years? Visualize you reading a story to your baby on your lap after 4 years. Or your child studying in that chair and snuggling in the warm nights.
Quality breastfeeding chairs like Monte Glider offer various designs and models. So choose the best one from such a proven brand that will serve you and your child in the long run.
Comfort
Nursing chairs should be comfortable. And this is a no brainer. Then why discuss it here? Because it is an unmissable feature. The nursing chair should neither be too wide nor too narrow. You should find enough space to sit for long hours and stand up without waking up your baby after hours of rocking efforts to put them to sleep. Try the chair for the comfort levels before you finalize one.
Arm support
Carrying the baby in arms for hours will stress the joints and cause arm pains. The nursing chairs should have ample hand support with cushions and paddings. Also, check for leg support. You should be able to stretch your legs comfortably without feeling any discomfort. You don't want to risk waking or annoying the baby when you feel like adjusting your legs for comfort. The nursing chair should also be ergonomically designed. Look in the user manual and product specifications if the design is ergonomic.
Fabric
Choose a nursing chair that has a durable fabric. Chairs such as Monte Glider come in various colors and durable material options. They make it easy to maintain, clean, and make your life easy. Select the ones suited for machine wash for better comfort. Dark colors make it easy to maintain, cover up the stains, and thus demand little attention for their maintenance.
Cushioning
The cushioning of the nursing chair should neither be too smooth nor too harsh. They should be firm enough and supportive of the lumbar portion. Some nursing chairs also come with pillows for back comfort. Such pillows help during breastfeeding the baby too.
Gliding or rocking mechanism
Nursing chairs come in different mechanisms of movement- rocking, and gliding. Try both the styles in person and choose the one you feel comfortable with. Rocking ones move back and forth in an arc, while gliders offer a smoother to-and-fro motion. Gliders also come with a locking mechanism which helps in times when you want to switch to a stationary mode.
Safety
Rocking chairs might cause minor injuries with their screws or rocking mechanism parts. Make sure the chair has no sharp edges or protruding screws and joints. If you are running tight on budget and keen on buying a second-hand rocking chair, take double care and check if all the parts are in place and the chair is sturdy enough to serve your purpose.
Conclusion
Nursing chairs are indispensable for new moms to breastfeed their babies. Playing the role of mom is not a small feat. And new moms do deserve the best of everything to make themselves comfortable. Hence, look for all these features in a rocking chair and choose the one that offers you the best comfort.