Estimated Time to Read: 3 minutes
Family camping trips are always fun. But there are safety factors to consider. You simply cannot take your family to the first camping site you come across on the web. A little research is essential before commencing the trip. With some simple measures, you can make every camping trip memorable for years to come.
Here are the family campsite safety tips to follow.
Choose a reputed campsite.
One of the safest things to do is to choose a reputed campsite. It will automatically ensure that you will not have to worry about your family's safety during your camping trip. Campsites of renown are known to implement stringent safety measures of all kinds for the visitors.
Begin by searching online with family campsites near me. It will provide you with a list of campsites in and around your local area. Check the websites and online reviews of the first few names on the results page. Do you like what you see in those campsites in terms of the facilities and safety measures? If you do then make a note of those campsites. Look at everything from lodging, recreational areas, parking, shops, and all types of campsites.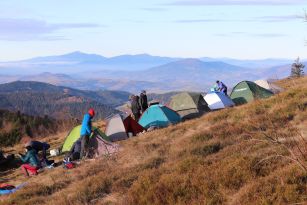 Inquire ahead if the campsite has a doctor on call. The same applies to their pet policy and a veterinarian on call. By asking the right questions, you can eliminate the hassle for you and your family. You can also ensure that you leave no detail unanswered when it comes to your family's comfort and safety during a camping trip.
Choose a campsite as per your family's unique needs.
Most safe campsites offer multiple accommodation options. You can choose from cabins to tents, and even RV sites. If you feel comfortable staying only in a cabin at the campsite then don't hesitate to do so. If you plan to take young children with you on the camping trip, you might not feel very comfortable camping out in the open. The cabins may be of different sizes. So, you can choose one as per your budget and requirements without compromising on the safety factor.
If you desire to camp under the stars with tents, it is best to choose a family resort campsite. Such campsites ensure that the tent accommodations are setup in safe spots and nearby other facilities. Be sure to inquire about it before booking a tent.
If you are going camping in your RV, you can choose a campsite that provides RV parking spots. Such areas are equipped with camping facilities for a fun stay for all guests. Ensure that the RV site that you choose is well-lit and well-connected to the resort or the camp facilities.
Book your stay in advance.
For a safe and fun stay, book your accommodation at the campsite in advance. It will help you choose your ideal option. You will also get the time to check safety measures in and around the accommodation area.
When you book your spot in advance, you can also plan your campsite activities keeping the safety aspect in mind.
Simply go through the activities page on the campsite websites. Make note of the games and activities available there. The pool area and other water bodies on the campsite must be equipped with safety measures. In case, you are unsure about what the game entails or if it is safe; feel free to reach out to the campsite with your inquiry. Reputed campsites are more than happy to respond to queries by prospective visitors.
Pack the essentials with care.
Reputed resort campsites are equipped with shops with camping and other essentials. You can call ahead and ask what these shops sell. But it is best to pack your camping gear and essentials with you.
Inquire ahead if you will need to pack the tents for outside camping. Pack medicines, snacks, insect repellants, clothing, extra pair of socks, comfortable shoes etc. with you. Ensure that the clothing you pack is comfortable and as per the weather conditions. It is best to pack full-sleeved t-shirts or shirts for the evening if you plan to camp in tents.
By taking these simple yet necessary measures, you can ensure a safe yet fun camping trip with your family. Happy camping!