Estimated Time to Read: 3 minutes
If you have been planning for the same and digging into the internet for family campgrounds near me, we suggest you go ahead and rock on!
Here is your basic guide to enjoying family camping during this vacation:
Pack the essentials
Campsites may or may not be equipped with essentials that make your vacation comfortable. Do research well ahead and find out with the camping organizers about the facilities the campsite has. You might as well filter the search results accordingly that spring up while looking at "family campgrounds near me".
Blankets, zip lock covers, towels, toiletries, kitchen and cooking tools, fun and gaming essentials, etc. all should be included in your packing list.
Organizing is the secret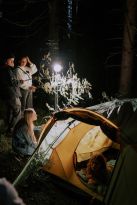 That said, family vacation demands a lot of stuff for making sure everyone is comfortable at the campsite. Ranging from extra pairs of clothes to pet essentials, you will surely end up with loads of luggage items. Hence, organizing is the key either to find items immediately when needed or to push into the car in a comfortable manner.
Choose solid stacking items that can also serve your need to sit and dine at the camping site. Labeling, or choosing different colored organizers for each of the family members can make your life easier at the campsite.
Plan the menu
Escaping the kitchen is one of the reasons why we love camping. At the end of the day, if you are stuck in cooking at the campsite too, the whole point of taking a break from daily hustle bustle has no meaning of its own. Thus, plan your campsite meals and menu ahead. Carry easily to cook and ready to eat foods that will lessen your time in cooking at the campsite.
Frozen pasta, soups, fruits and nuts, chopped veggies and meatballs, etc. can help cut cooking time at the campground. You can easily reheat them on the camping fire and make the most of your camping experience without getting stuck in the kitchen.
Stock up on fun items
Camping is a great way to explore nature. That said, you cannot spend a full night and day enjoying the colors of the sky. Kids and youth might feel bored if you miss adding a dose of fun to the camping.
Pack games and related items that help kids beat boredom at the campground. You can also plan and organize a variety of family games with cards, papers, secret slips, etc. Treasure hunts, hide and seek, or fun competitions are all amazingly feasible during outdoor camping.
Don't forget the medical kit
Bug bites and scratches are inevitable when camping. Kids may even be susceptible to cold and cough due to the change in weather. Thus, packing a first aid kit along with emergency medicines is a must when heading out for camping. You can also explore the internet for camping hacks and pack the medical essentials accordingly. For instance, we all know that tea tree oil can work wonders to repel insects and mosquitoes. So, if you have enough time, do not forget to make research and pack chemical-free supplies for camping. If you are running tight on time, do not fret. Mosquito repellants and creams are readily available everywhere.
Digital detox
If you are heading camping to spending time in nature, away from digital devices and daily monotony, then plan for activities accordingly. Yoga mats and guides, meditation and pranayama books, etc. will be your best friends on your camping. Doing yoga with family and kids is also a way to build family bonds besides teaching them its beauty. Meditating and doing yoga amidst the freshest of the air and birds chirping will surely rejuvenate you once you are back to home.
Conclusion
Camping is one of the best ways to build bonds with family. Taking time to research the camping site will give clarity on what essentials you need to pack for your vacation. Taking necessary vaccinations will also help if you are heading too long for camping. Not to mention, social distancing and hygiene are still to be followed, be it on camping to stay safe and enjoy your vacation. We wish you a lovely camping time!