Estimated Time to Read: 3 minutes
Irrespective of the breed of your canine friend, you must invest in a good dog training course to train your little pup. Dog training courses not only discipline your hound but also helps in tackling any behavioral issues with your dog. A well-trained dog enjoys more freedom and is liked by everyone.
You may need to visit your friend's and relative's places occasionally. A disciplined dog can accompany you to these places and enjoy a change in the environment.
A well-mannered dog is welcomed everywhere and can make many two-legged and four-legged friends. Hence, it is essential to enroll your dog in good online dog training courses.
Let us read further to know why dog training courses are a better choice for you.
It gives your dogs a chance to socialize.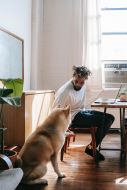 Also, as a pet owner, you get to meet other pet owners who can give you useful advice on taking care of your furry friend.
Dog training courses can give a safe and controlled environment for your dogs to interact with other dogs. They make new friends and learn how to behave around other dogs.
You learn about other dogs and their issues
A dog training course is a great way to learn about other dogs and their behavioral issues. You also get to observe how an expert resolves these issues with other dogs.
Observing other hounds helps you understand your pet in a better way. You gather some insights that can help you in troubleshooting any future problems with your canine friend.
The dog learns to follow complex instructions.
If you have a polite and well-behaved dog, you may find it easy to train them on your own. You can also teach them simple instructions like "stay" and "sit".
However, your canine friend is capable of more than that. You can easily train your dog to follow more complex instructions.
A dog training course can help train your dog with some new skills. They can also observe and learn from their other canine friends. The classes can help unleash the true potential of your dog.
Dogs learn to work with distraction.
Some dogs are more disciplined at home. However, as soon as they step out of the house, they may fail to respond to your instructions.
Dogs are extremely energetic, and the outside environment offers a lot of distractions. They can hear, smell, and see a lot of different things. It may excite their minds to such an extent that they forget to pay attention to your commands.
In such a case, a dog training course can be extremely helpful. It helps your dog to manage distractions and follow instructions. They are trained to follow clear commands irrespective of the environment.
Better communication between owner and the dog
A dog training course can help you establish a better relationship with your dog. The expert can guide you on how to train and command your dog based on the assessment of your pet.
The methods devised by professionals work faster and more effectively.
Your dog receives instructions and commands from you, which they learn to follow with time.
You also learn new ways to communicate with your dog. It helps strengthen the bond between you and your furry friend.
These are some of the reasons why a dog training course is a better choice for you. You not only help your dog learn new skills but can also improve yourself as a pet owner. However, if you are facing a time crunch due to your busy schedule, you can also enroll in an online dog training course. This will provide you with much-needed flexibility while training your dog.