Estimated Time to Read: 2 minutes
When the perfect human-dog relationship is achieved, it is a magical thing. Do you wish you could take your dog out for walks without worry and anxiety that things might go awry? Maybe you can see that your dog is learning bad habits, but you don't know what to do about it. Professional dog training advice goes a long way in ensuring that you and your dog can enjoy each other as much as possible. It might be time to check out online dog training courses to help you improve your and your dog's relationship.
Top Five Reasons Why You Might Need Online Dog Training Courses
1) Do you understand your dog?
Do you find that you often wonder what on earth your dog is thinking? With a good quality online dog training course, you will be able to better understand your dog's needs and wants. Wouldn't it be great if your dog looked at you and you knew what she was thinking?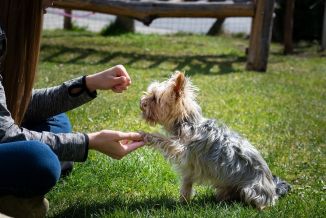 2) Does your dog understand you?
Often, dogs do not obey their owner's commands because they simply do not understand what their owner wants. Online dog training courses help you to communicate better with your dog. With practice, your dog will be able to understand what your intentions are, and they will be able to follow your commands much more reliably.
3) Are you worried about taking your dog out in public?
Sometimes, people do not take their dog out in public because they are worried that their dog will react negatively. Some people are worried that their dogs will be scared or that their dogs will act overly aggressive. Of course, keeping dogs away from people makes the situation even worse. Online dog training courses will help you and your dog be more comfortable in public.
4) Do you have to put your dog in another room when you have visitors?
When your doorbell rings, does your dog go crazy barking? Does your dog jump up on visitors and make your friends and family uncomfortable? If so, then you need to find some good quality online dog training courses to help you and your dog deal with visitors much more calmly.
5) Are you a first-time dog owner?
First-time dog owners often need professional advice in many aspects of dog-ownership. There are great online dog training courses available that are specifically geared towards newbie dog owners and their many questions.
What to Look for in an Online Dog Training Course
When looking for the perfect online dog training courses for you, consider your options. There are on-demand video classes that are curated specifically for different issues. These may include off-leash training, obedience, or new puppy training.
The best online dog training courses are taught by reputable and experienced dog trainers. Make sure you look into the trainer's qualifications before investing in any courses. Check out reviews or referrals for your potential trainer. If they have a podcast or website, investigate them thoroughly before beginning your training.