Estimated Time to Read: 3 minutes
Feeding is one of the best times to bond with your baby, but as a parent, you know the trouble that accompanies soothing a hungry little one as well as the discomforts that accompany the feeding process and after it. You have to keep the baby in a comfortable position, get him/her to latch on correctly and drink up the quantity that they need, all the while ensuring the tiny tot does not get fussy. Once done, you also have to spend a few extra minutes patting the baby and holding him/her in positions that help release gas. When this does not happen smoothly, babies often become irritated and show signs of colic. Thankfully, you have the best anti-colic feeding bottles that make feeding time less painful and more comfortable and enjoyable for your little one. Here is more to know about the best baby bottles.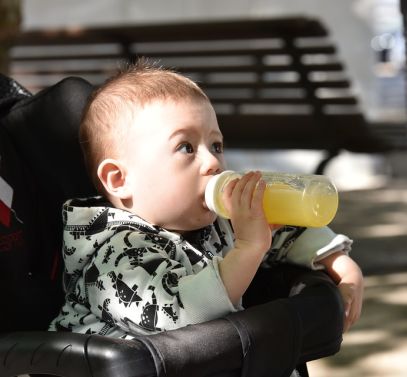 Feeding and colic in babies
Colic refers to an occurrence wherein an otherwise healthy baby cries on for hours together and no effort of yours helps soothe them whatsoever. Colic is not a disease or a condition but a prolonged crying episode, typically caused by discomfort within the baby's body. Since your little one cannot communicate by any other means, crying is his/her way of expressing needs and uneasiness to you. While there are many reasons for colic, feeding has a direct relation. When your baby sucks out milk or formula from a feeding bottle, he/she also sucks in air, which eventually makes its way into the little one's tiny digestive system. This causes gas to develop inside, leading to irritation and uneasiness, and ultimately, a colic bout. If the crying episode happens due to gassiness, the baby can be relieved by patting and burping. However, it also helps to prevent less gas from entering your baby's tummy, so that he/she needn't experience the discomfort at all. This can happen with an anti-colic feeding bottle.
How anti-colic bottles work
An anti-colic feeding bottle is designed to be different from regular ones. Its unique bottom air vent separates the air from the milk, removing air from the bottom as the baby drinks up the milk through the nipple on top. This ensures that lesser gas makes its way into your baby's digestive system. Such a mechanism also allows the milk to flow more smoothly through the nipple as the baby sucks on it.
The other benefits
The best anti colic bottles aren't just regular feeding bottles. They are also often power mixers that blend baby formula and water smoothly. They are useful in mixing fats that have separated from breast milk left in bottles. The blender uses a powerful swirling cyclone to mix all the ingredients smoothly all at once. The action helps reduce the air bubbles and foam that usually comes with slower, hand mixing or shaking. Such bottle designs also ensure that everything inside is mixed smoothly and that no lump clogs nipple holes when feeding so that the baby sucks in more milk and less air when feeding. Additionally, there are no unblended particles that may irritate or stress out your little one's delicate digestive system. All of these help babies from turning gassy inside after feeding, and in turn, experiencing colic.
How to choose anti-colic bottles
Anti-colic baby bottles and mixers come in a wide variety, so choose one that's best suited to your baby's needs. Always choose bottles that are free of PVA, BPA, and phthalates. Look for easy to hold shapes, as this helps you feed the baby comfortably. Check the quality of the nipples. Silicone attachments with breast-like shape and feel are the best choice. Depending on your baby's age, look for nipples with slow to medium or fast flow as desired. Opt for anti-colic mixer bottles with sipper cup attachments. This will help transition your baby from a bottle to a cup more easily as he/she grows. Look for mixers with USB chargeable bases and indicator lights. This makes them compatible for travel while also letting you know when they need to be plugged in again. Finally, the best anti-colic bottles are always ones that have been recommended by doctors. Always choose brands and products that are backed by pediatricians.