Estimated Time to Read: 3 minutes
Dealing with a baby who has colic is no easy task. Such occurrences are also worrisome for a parent. Colic isn't a disease or a serious condition and its exact causes are not known. But most often, these crying pangs result from gas and discomfort that follows a feeding session. It's common for bottle-fed babies to experience uneasiness in their little tummies. This is because when they suck milk through the nipple of a feeding bottle, they also swallow in the air, which eventually distends their tiny tummies. A solution to this is using anti colic feeding bottles. Here is more to know about such kinds of the best baby bottles.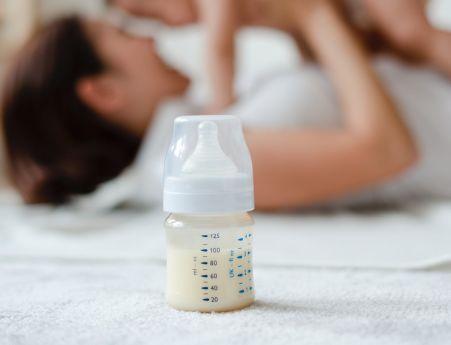 What are anti colic baby bottles?
An anti colic bottle is a feeding bottle made especially for colicky babies. It typically features an anti-colic vent or valve that draws out excess air from the bottle as the baby feeds on the formula or breast milk. This mechanism prevents large air bubbles from forming in the milk and consequently, entering your baby's tummy when feeding. The anti-colic vents may be present in the bottle in the bottom, as a straw within the center of the body, or as additional valves in the nipple. The anti-colic design may also be a combination of such features for effective removal of air. Most bottles also have slow flow nipples to ensure that only the right amount of milk flows in through the teat opening, thereby preventing your baby's tummy getting full and bloated too soon.
How to select the best anti colic bottle for your baby
The choice of a baby bottle that prevents gas depends on the age of your baby and his/her feeding needs. Here are few things to consider to pick the right feeding bottle for your little one.
Choose an appropriate bottle size and shape. The older your baby, the larger the amount of formula or breastmilk that he/she needs to be fed. Choose a capacity that can satiate your baby's hunger. Best anti colic bottles, like regular feeding bottles, also come in many shapes like straight, curved, angular, etc. A straight bottle is ideal for babies who feed when lying down. Curved or angular shapes work well for those who feed upright. For babies who are a year or older and who can hold their bottles, it helps to have bodies with handles as well as sipping cups in place of nipples.
Look for nipples with right flow. While slow flow nipples are ideal for colicky babies, those that do not dispense enough milk can cause babies to suck up more air and turn gassy eventually. To prevent this, look for bottles with nipples of variable flow levels. Through trial and error, you can find the right one for your baby's needs.
Pick bottles with nipples that provide a breastfeeding like an experience. This will help transition your baby to a bottle more easily and ensure that he/she has a comfortable and enjoyable feeding experience. Pick wide or narrow nipples based on what your baby prefers. Also, opt for silicone-based designs for a more soft and natural feel.
Select anti colic baby bottles made of baby-safe materials. Those made of plastic are typically easier to use and carry around. However, remember to use materials that do not leach harmful chemicals into your baby's milk. For safety, pick bottles that are free of BPA, PVC, and phthalates.
Use multitaskers. Anti colic baby bottles can be much than just feeding bottles. Many of them also double as formula mixers and warmers, thus providing you a hassle-free feeding time. The advantages of such products are that they help you mix formula and water in a hands-free manner while ensuring that there are no lumps or excess air bubbles trapped in your baby's milk. They are also ideal for blending stored breast milk for smooth and comfortable feeding. Newest versions of these electrically powered devices use USB rechargeable batteries, are light in weight, and easily portable. These features make the anti colic bottle a great companion for feeding your baby on the go.
The best anti colic feeding bottle is one that not only reduces gas and spits ups in your baby but also provides you and the little one a comfortable and enjoyable feeding experience.